Hello and welcome guys. I am back with another amazing video editing tutorial. In this blog I am going to tell you how you can create Instagram trending reel video in VN application. This type of photo shake reel is very trendy on Instagram. You can also create this type of reel video by simply following the below steps. So without wasting any time Let get started.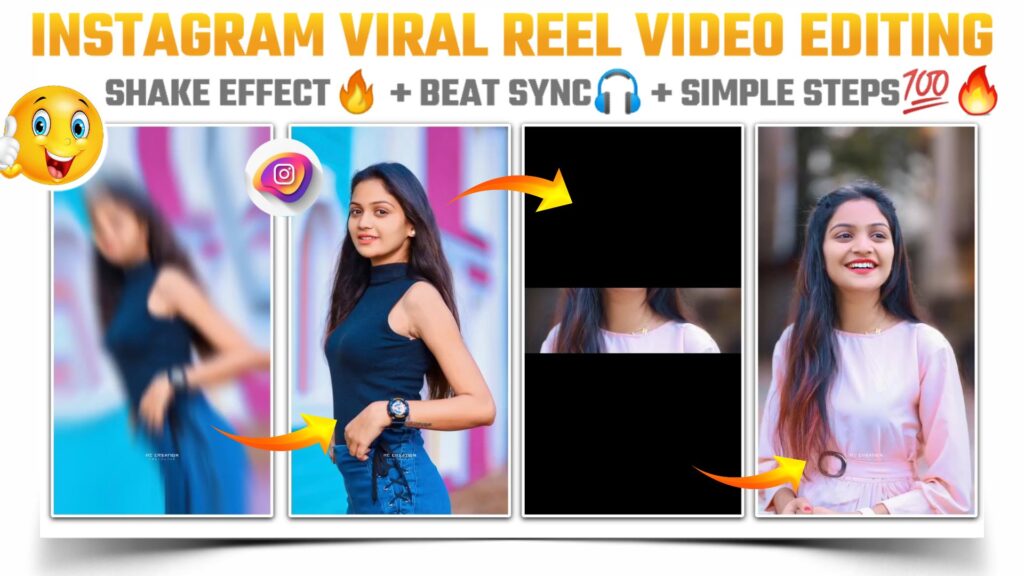 STEP 1
As we are going to create this trending reel video in VN application. So you need a VN application in your phone. If you don't have it then you can download the VN application from below download link. VN is a video editing application. You can cut, trim, edit or apply shake effects and filter to your videos in this application. So download it and install it in your phone.
STEP 2
Now open the VN application and click on the plus option available at the bottom. Now click on a new project and choose the photo option. Select your images from your phone and the number of images should be 28. After selecting all the images click on the right arrow given below.
STEP 3
Here is the main interface of this application. Here you can do all the things with your video or photos. Select the full screen ratio or 9:16 ratio by choosing the ratio option given above. Now you need to adjust all the images according to the selected ratio. You can use the Crop option to perform this operation.
STEP 4
Choose the add music option and add our MP3 song. You can also extract the song from any other videos in this application. The download link of the song which we are using in our video is given below. So download it from that link and add it into our project in VN application.
STEP 5
After adding the MP3 song now you need to mark the beat present in our MP3 song. For that select this song and click on the beat option. Now you can see a marker to mark the beat. So use it and mark the beat which is present in our song. If you are not able to mark the perfect beats. Then simply mark the beat on the position mentioned below.
Mark Beat On Below Second
➵ 1.07 ➵ 7.06 ➵ 8.35
➵ 3.17 ➵ 7.33 ➵ 8.54
➵ 5.24 ➵ 7.44 ➵ 8.72
➵ 5.49 ➵ 7.57 ➵ 9.05
➵ 5.77 ➵ 7.72 ➵ 9.39
➵ 6.02 ➵ 7.85 ➵ 11.49
➵ 6.27 ➵ 7.95 ➵ 13.56
➵ 6.54 ➵ 8.11 ➵ 15.65
➵ 6.81 ➵ 8.22 ➵ 17.72
STEP 6
Once you are done with the marking beats of our song. Now you need to apply the effects to added images. There are two types of effects present in this VN application. First one is the transition effects and second one is the FX effects. It totally depends on you which effect you are going to apply to your images.
STEP 7
Small suggestion from my side for applying effects to your images is that if you applied both transition and FX effects to your images it will look very good. Once you are done with the applying effects to your images. Now you need to adjust all those images according to song beats. So decrease the duration of the image and adjust it between two beats.
STEP 8
Friends if you need the images that I have used in my Instagram trending reel video. Then please join our Telegram channel. On the Telegram channel you will get all the images in HD quality. Joining link of the Telegram channel is given below.
STEP 9
You also need to apply the effects to those images which are present at the last of the video. You can also apply both transition and FX effects to those images. Once you are done with this task. Your Instagram trending reel video is ready to save. Now you can save this video in your gallery.
STEP 10
After following all the steps mentioned above your video is ready to export. To export the video just click the share button and save your video. If you face any problems regarding this video, then you can refer to my youtube video. Link is given below.
If you have any queries about today's blog then feel free to share with us by using the comment box. We will try to solve your queries as early as possible. Thank you for your valuable time😊