Hello and welcome guys hope you all are doing well at home. I am RC creation and I welcome you all into my another interesting blog post. In this blog post we are going to see how you can create Tokyo Drift beats Instagram real video. To create this Tokyo Drift beat Instagram reel video you just need a phone and a few applications. I have explained all the things in very simple steps. If you want to create this type of video then just follow The below steps.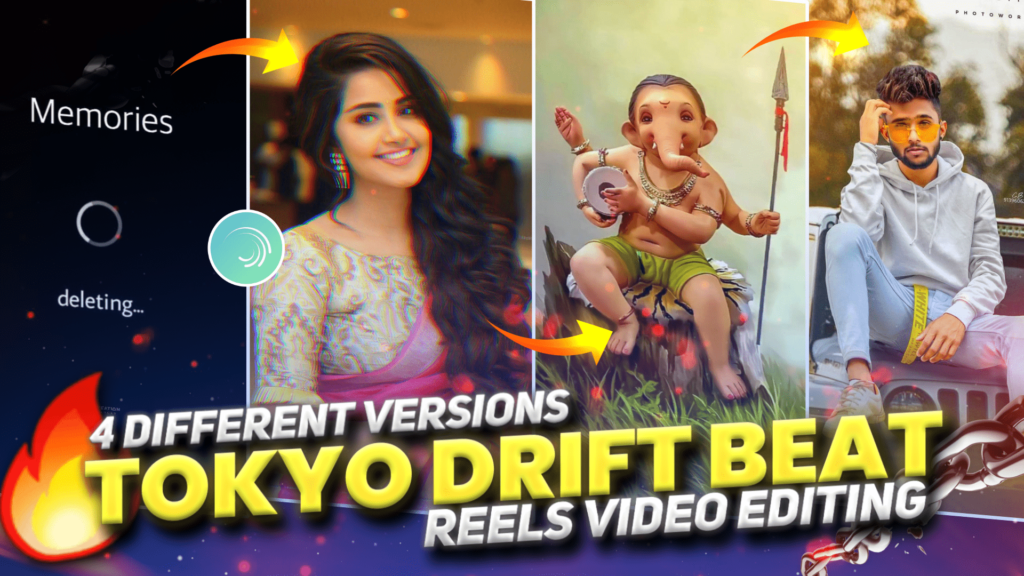 Why Tokyo Drift Song?
Why did I choose a Tokyo Drift song to make an Instagram live video? The answer to this question is very simple. Tokyo Drift beats are reaching more people on Instagram reels and many people are loving these beats. So as a video editor we have only the purpose that our video gets love from the audience. So to gain the love and support of the audience we have chosen the Tokyo Drift song. Because this song is already loved by the audience.
Best App To Edit Video
To make the Tokyo Drift Instagram reel video we need an application which has enough features. Features like audio support, high quality support, effects, transitions and many more. By considering these requirements alight motion is the predominant application for video editing. So we will edit our video in the alite motion app. If you don't have this application on your phone then you can download it by just clicking the below button.
Features Of Alight Motion
Alight motion is one of the best video editing applications in mobile phones. I am saying this because I have used this app for more than one year and the experience with this app is very good. Basically in this application you will love the effect section. In this app you will get lots of effects which you can easily apply to photos and videos. The main features which make this app different from other video editing apps is you can customise those all effects.
Create A Project
Open the alight motion app and click on the plus icon that you are seeing on the downside. Now select the frame rate of 30fps, resolution of 1080p and black colour background then click on the create a project option. By this process you can create a blank project in your alight motion app to make a Tokyo Drift beats Instagram real video.
How To Download a Song?
The first thing you need to make the Tokyo Drift beats Instagram reel video is our MP3 song. So I have provided you with the download link of the Tokyo Drift beats MP3 song below. You can download this Tokyo Drift special Beat MP3 song by just clicking the link available below. This is only a 30 second song so you don't worry about the storage space.
Marking Beats Of Song
Add a MP3 song to your blank project which you have created in the above steps. To add the MP3 song click on the plus icon and select the audio option. Now choose the Tokyo Drift beats MP3 song from the respective folder and add it to the project. Now listen to this song carefully and start marking the beats present in this song. You can use the timeline marking tool to mark the beats.
Import Beat Mark Project
If you are not able to mark the beats or if you are not getting the beats present in our Tokyo Drift MP3 song. Then simply import the below beat mark project. In this beat mark project I have already marked the beats of this song for you. So by importing this beat mark project you did not need to mark the beats. You can import the beat mark project by using the link below.
Add Your Photos
Now add those photos on which you are going to create this Tokyo Drift beats Instagram reel video. To add the photos click on the plus icon and then select the image and video option. Now select all photos and add them to your project. If you need the images that I have used in my video then please join our Telegram channel by using the link available below. On our Telegram channel you will get all those images in full HD quality.
Import Shake Effect Project
Shake effects provide that attraction to our video. So apply the shake effect to all the images that you have just added to your project. You can create your own shake effects by using the effect section available in alight motion app or you can also use the effects that I have made for my video. If you need those effects then just import the below shake effect project. In this project I have provided you with all the shake effects that we need to create a Tokyo Drift beats Instagram reel video.
XML File for Shake Effect
You will not be able to import this shake effect project if you are using an older version of alight motion application. If you still need to import this project in your application then you need to take the help of XML files. Because an XML file is the only way to import this project in your older version. You can download the XML file by just clicking the button available below.
Save Your Video
After following all the steps mentioned above your video is ready to export. To export the video just click the share button and save your video. If you face any problems regarding this blog post, then you can refer to my youtube video. Link is given below.
If you have any queries about today's blog then feel free to share with us by using the comment box. We will try to solve your queries as early as possible. Thank you for your valuable time.