In this blog post you will learn to create an Instagram viral beat reel video in just 12 steps. Hello guys, My name is RC creation and you are reading this blog post on rccreationsyt.com official website. Basically this particular beat is getting viral on Instagram. So if you create a video on this beat then you might increase the chances of getting more likes through Instagram reels. If you want to create this Instagram viral beat reel video then be assured to be with us till the end of this blog. Let's start the blog post now.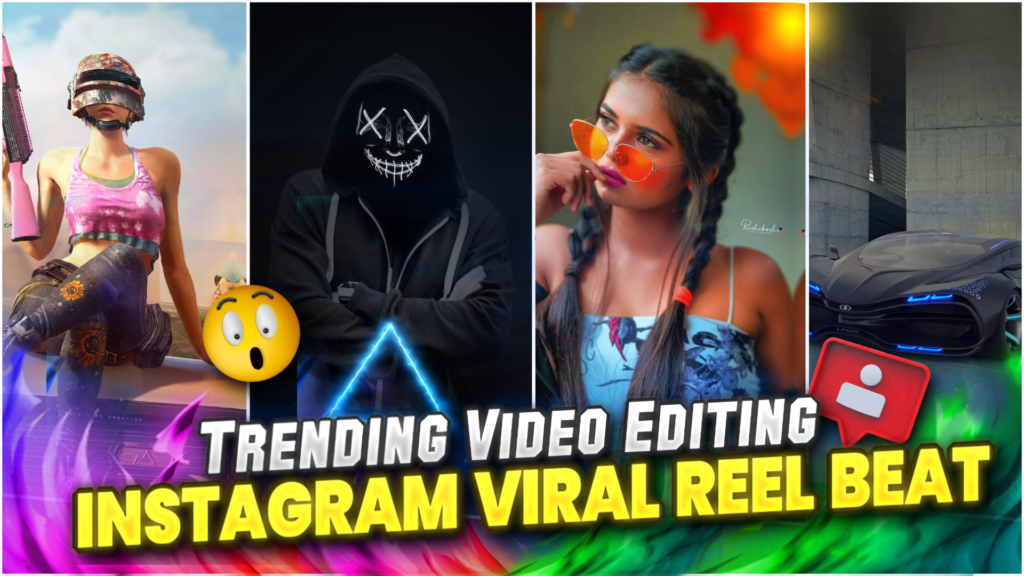 STEP 1
You need an editing application to create this Instagram viral beat reel video. You can use a cap cut application to make this type of video. The reason behind using cap cut applications is the availability of the effects that are present in this app. Also the app interface is very clean and easy to use. This interface will help you to understand it and create a better video. The download link of the cap cut application is given below. You can download this application from the available link.
STEP 2
If you are from India region then you might not use this cap cut app directly. You need to use any VPN application to use the cap cut editing app. The specific reason behind this and I can't elaborate that reason due to security issues. So if you want to use Kappa tap in India region then download and use any VPN app. I am personally using the turbo VPN app. If you need this apIn p then I will provide the download link below. You can easily download it from that link.
STEP 3
Firstly open a VPN application if you are from the India region. If you are not then you can directly open your cap cut app. Let's first talk about the people who are from the India regions. These people need to get connected with the VPN first. To do so open the VPN application and get connected with any VPN. Make sure that you have turned on your data to get connected.
STEP 4
Open the cap cut app after getting connected with the VPN. Now you will get the main interface of the cap cut app in front of you. The interface is very clean as I mentioned earlier. You just need to create your project. To create a project click on the new project option. Now you will see the videos which are present in your mobile device. You need to shift from videos to the photo section. Now here select those images on which you are going to create this Instagram viral beat reel video.
STEP 5
Add all those images after selecting them into your project. If you need the images that I have used in my video. Then I have provided you with the three categories of images. The first category is of black lover images. Which you can easily download from the download link available below.
The second category is of pubg images. In this category you will get the images of an action game named Battleground mobile India. If you are thinking of making a video on gaming category then you can use these images to make your Instagram viral beat reel video.
You will get images of racing cars in the third category. These are all images of sports cars and I have collected these images for my video. So you can download them from the download link given below.
STEP 6
If you need the images of other categories then please join our Telegram channel. On our Telegram channel you will get the images of lots of categories in full HD quality. The joining link of our Telegram channel is available below.
STEP 7
Select the 9:16 ratio by using the format option available in the app. After selecting the ratio, resize and adjust all the images that you have added in your project. You can easily resize them by using two fingers. So check all the images if they do not fit in the 9:16 ratio then resize and fit into the selected ratio.
STEP 8
Add an instagram viral beat MP3 song to your project. To add an MP3 song clip, click on the add audio option and then select the sounds option. Now you will get two options in front of you, So select the from device option and add it to your project. The download link of this Instagram Viral beat MP3 song is given below. So you can easily download that MP3 clip from this link.
STEP 9
Mark the beats present in Instagram viral beat MP3 songs. Beat marking process in cap cut applications is very easy and anyone can mark the beats of any song very easily. To mark the beats of our song select the layer of MP3 song clip. Then click on the match cut option and start marking the beats present in our song by using the add beat option.
STEP 10
You need to resize all the images again according to the positions of the beat. This task is very easy. Just reach the position of your beat and select the image layer. Now cut this image into two parts by using the split option. Now delete the right hand side part of your image by using the delete option. In this manner you can adjust all your images according to your beats.
STEP 11
At the end you are only left with the animation applying process. You need to apply the animation to all the images which are present in your project. To do so select the image layer and click on the animation option. Now select the combo option from the three options that are available in front of you. Apply the pendulum 1 named animation to all the images. Don't change the duration of animation.
STEP 12
After following all the steps mentioned above your video is ready to export. To export the video just click the share button and save your video. If you face any problems regarding this video, then you can refer to my youtube video. Link is given below.
If you have any queries about today's blog then feel free to share with us by using the comment box. We will try to solve your queries as early as possible. Thank you for your valuable time.