Now a days beat sync transition status are in trend on instagram. So in this blog i will help you to make trending beat sync transition status because all are trying to go with trend. This type of video are very easy to edit and with my style it get more easier for you. So without a further ado let's get started.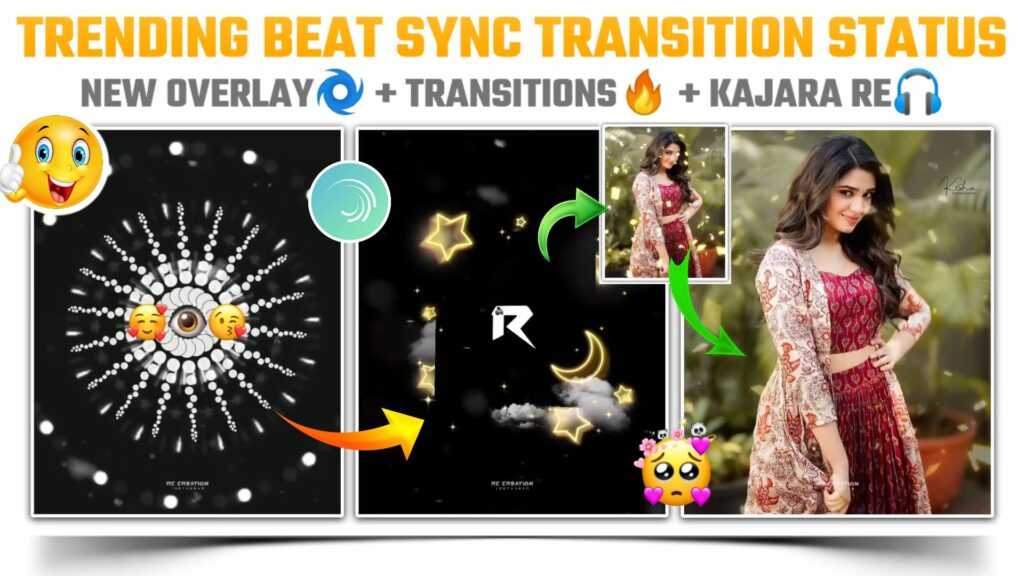 Friends, Capcut is a perfect application to make the transition effect status video but as you all know we can't use this application in india. Now the question is "how we can make this type of status video now ?". The answer of this question is "Alight Motion". Yes, we will create this status video in alight motion. If you don't have this application then please go through below link and download alight motion application.
Beat Sync Making:-
Now to make further video, you need to import an beat marked project. In this project I have marked the beats of song that we are using! You can easily import this project from below button.
(Note📝 : PRESET link can only be import on 3.4.3 or above version of alight motion)
If you not interested in ready made project or beats, then you can mark your own beat. I have provided a download link of mp3 song below.
If you have imported the beat mark project then open it and come to the starting position of the song or finish your beat marking and now come to the beginning part. Now add the circle – outward bar overlay video here. You can add this overlay by using "images and video" option. First of all download this overlay by clicking below button.
Add the iPhone emoji png here. The position will be same as of the overlay video. After adding iPhone emoji png, extend the layer of png till the end of overlay video. Download link of iPhone emoji png is available below.
Select the both layer (include layer of iPhone emoji & layer of overlay video) and cut them at the specific position of red line. Refer the video for more clarification. Video link available at the end of blog.
If you play the song from the position of first red line, then you hear a lyrics saying "SMR". So to justify the lyrics, you need to add a SMR name video clip. The position of adding this video clip is first red line. So, simply download this video clip from below downloading link and add it to project using "images & videos" option.
Now come on the fifth red line marked in the project and start adding the images on which you are making this status. If you need the images that i have used in my video, then please join my telegram channel. On the telegram channel you will get all the images in HD quality. Joining link is available below.
To match this images with song beats, you need to apply an shake effect to added images. You can make this shake effect manually or simply import the below shake effect project. In this project i have provided all the necessary effect.
(Note 📝 : PRESET link only import on 3.4.3 version of alight motion)
If you are getting the "Account Mismatch" error while importing the above project, then might be you are using older version of alight motion. If it is right, then you can import this project with the help of XML file. Downloading link of this file is given below.
(Note📝 : XML link can only be import on 3.3.5 3.3.0 & 3.1.4 version of alight motion)
You can easily apply the shake effect to images by using above project. You just need to copy effect from above project and paste it to main project.
Transition Making:-
I have a small suggestion for you. Please don't apply this effects to the ending images. If you apply the transition effect to ending images it looks good. To apply the transition effect, just import the below project and do the copy – paste work as you done above.
If you are facing any issue while importing this project, then please try the below link. This project doesn't content any images but have all the effects as given in above project.
We have done with our main editing part. Now we try to make our status video more attractive. To do this come to the 23:25 seconds mark and add a golden sparkle effect video here. After adding the effect video choose the "Blending & Opacity" option and apply the screen effect to video. You can download this golden sparkle effect video by clicking below button.
To enhance the attractiveness of our status video add the snow overlay video from the starting position and follow the same step as you followed after adding golden effect video. You can download this snow overlay video from below downloading link.
Video Exporting:-
After following all the step mentioned above your video is ready to export. To export the video just click the share button and save your video. If you face any problems regarding this video, then you can refer my youtube video. Link is given below.👇
If you had any queries about today's blog then feel free to share with us by using comment box. We will try to solve your queries as early as possible. Thank you for your valuable time😊