How are you guys? Hoping you all are fine! In this particular blog i am going to show that how you can create full screen photo blinking status video. To make such type of video you just need to follow the following steps. So without westing time let get started.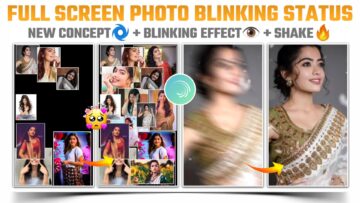 First of all you need a editing application to make full scree photo blinking status video and for that purpose we are going to use alight motion. It is a very good android editing application. If you readed our previous blog then you know it very well. So just downloaded the application from below button, if you don't have that.
First Phase:-
You can manually mark the beats of song by simply adding mp3 song. You can add the song by choosing "Audio" option. Before that download the song from below link.
If you don't want to mark beats by yourself or want to make a perfect beat sync status then just import the below beat marked project.
I have provided two projects. If you are making this video for instagram reels then import the "Beats for reel" project. This projec import link given below.
(Note📝 : PRESET link can only be import on 3.4.3 or above version of alight motion)
If you have a plan to upload this status video on YouTube or whatsapp then import "Beats for WhatsApp" project. You can import this project by using below button.
(Note📝 : PRESET link can only be import on 3.4.3 or above version of alight motion)
Second Phase:-
Now open the imported beat mark project. After that move 5 second forward in the timeline and now start adding the images of your choice. If you have any doubts about adding the images then watch the video made by me on YouTube. Link is available below.
If you need the images that i used to make my full screen photo blinking status, then just join our telegram channel using below link. There you get all the images in HD quality.
Apply the blink effect to the images present in the first and second red line. Use the effect option to add this effect. After adding the effect set the frequency on 3.00Hz.
At this moment we have applied effect to half of images. To apply effects to remaining images you need to import another project named full screen shake by RC Creation. You can easily import it using below button.
(Note📝 : PRESET link can only be import on 3.4.3 or above version of alight motion)
I have provided a XML link of this project. In case if you are using older version of alight motion then you can import this project using XML link.
(Note📝 : XML link can only be import on 3.3.5 3.3.0 & 3.1.4 version of alight motion)
Use the above shake projects and apply the effect to remaining images. After applying effect to all images you finished with the editing work of our video.
Before exporting a video we should have to make our video more attractive and for that we will add the snow overlay video from the position of second red line. After adding and adjusting the overlay video, select the "Blending and Opacity" option and apply the screen effect by opening setting of Lighten effect. You can easily download this overlay by using below download link.
Fishing Phase:-
After following all the step mentioned above your video is ready to export. To export the video just click the share button and save your video. If you face any problems regarding this video, then you can refer my youtube video. Link is given below.👇
If you had any queries about today's blog then feel free to share with us by using comment box. We will try to solve your queries as early as possible. Thank you for your valuable time😊